Last edited by Zen_Aakash on 2019/5/3 15:59

Every Year Qualcomm comes out with a New SOC (System on Chip) & Yes it will definitely come with more Performance boost, better than the predecessor, but in this new Era Qualcomm isn't the only one who is Making SOC's & to up the game new innovations is necessary so that Benchmark isn't the only talk point. Today let us see what Qualcomm has in store when it comes to its all-new Snapdragon 855. Snapdragon 855 is already available with newer Flagships & it will create a new roadmap for many companies going forward.



Top Features




Performance


Initially during leaks, Snapdragon 855 was rumored to be called SD8150 but it turned out that it was just a codename & the actual marketing name will follow its predecessor line up. Snapdragon 855 is based on 7nm Architecture which is similar to what the Competitor SOC is based on. Qualcomm's Tri Cluster Design can be seen on Snapdragon 855. To simply things here is the arrangement - One 2.84 GHz Kryo Prime Core (High Amount of Cache), Three 2.42 GHz Performance Cores, Four 1.80GHz Energy Efficiency Cores. This means that Snapdragon 855 has a good Single core as well as multi-core nos. Snapdragon 855 will give 45% CPU boost & 20% GPU performance boost when compared to Snapdragon 845.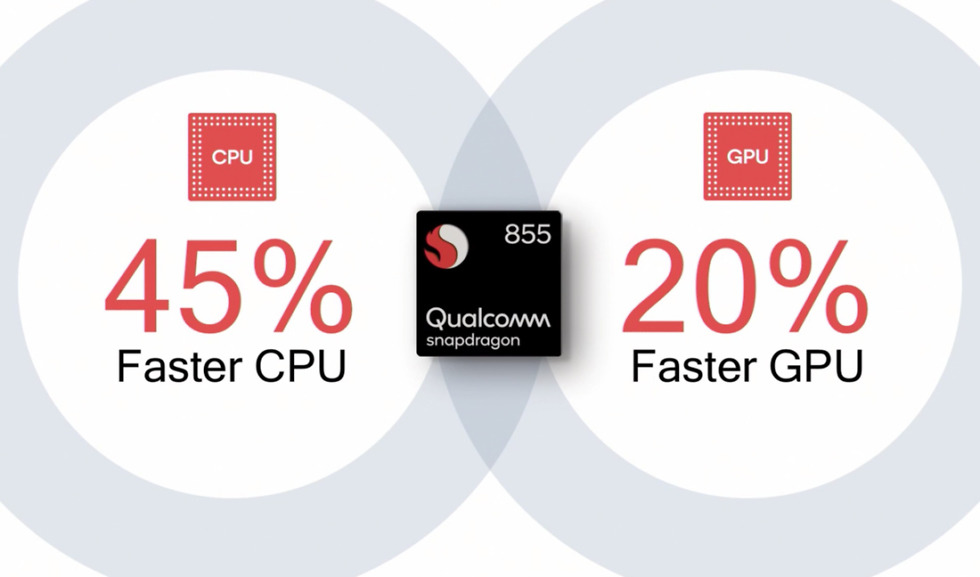 5th Generation(5G)


5G is something which we are listening to a lot since 2018 & the Year 2019 will be no different. Though 5G actual usability will not be all of a sudden & will slowly roll out. This doesn't mean the Snapdragon 855 will be behind, though you need an extra chip from Qualcomm to support 5G which is Qualcomm X50 Modem. Qualcomm comes with X24 Multi-Gigabit Modem.





Entertainment


Coming to Entertainment part SD 855 will have HDR & HDR10 support, this means that the Phones don't have to rely on YouTube or Netflix for HDR content. With Snapdragon 855 you will be able to record video in 10-bit color & don't have to rely on other apps to actually watch the content. This still is Manufacturers choice as it needs hardware and software support together. Content has to be HDR specific too.


The chip's new CV-ISP (computer vision image signal processor) is powerful enough to perform software bokeh blur on 60fps 4K HDR video, along with object and body tracking for VR.

Combine all this with better image processing, superior Bluetooth audio via aptX Adaptive, and support for 8K video recording, and the big attraction of the Snapdragon 855 vs 845 is the new user experiences on offer. Of course, this will all depend on what Qualcomm's smartphone partners decide to do with their phones



Qualcomm Snapdragon 855 vs Huawei Kirin 980 vs Samsung Exynos 9820




All these SOCs are very similar to each other but they do have a few things which stands out while comparing them together. Above listed SOC power the Flagships lineup of devices & will keep powering more flagship which will come up in 2019. While all the 3 SOC lacks default 5G support, external modem helps in achieving 5G capability. Multimedia is the key focus for all & they keep improving on this front so that their SOC doesn't fall in any category. Exynos & Qualcomm do lead in 2GBPS LTE chips which helps sporting better carrier aggregation. While these SOC talks everything about performance these are based on 7nm which in turn help is better battery efficiency.

Kirin & Exynos has adopted 2+2+4 CPU design which is different from Qualcomm. Kirin is the lacking out of 3 when it comes to the no of features Qualcomm & Exynos packs in. Qualcomm, in turn, becomes the leading SOC when Spec sheet, actual results & benchmarking is concerned. The year 2019 will be Snapdragon 855 for most manufacturers.



Conclusion


It's the Year 2019 we did see a fall or maybe a downshift in Global Smartphone market when the shipment is concerned but with AI, machine learning & Gaming picking up the pace Smartphone market isn't just about Antutu Benchmark but more about changes which are required.

So here it was a brief Idea about What's new in Snapdragon 855, Features which will make SD855 stand out, Comparison with its Competitors & Verdict. What are your thoughts Guys? Do let me know down in the comments below.